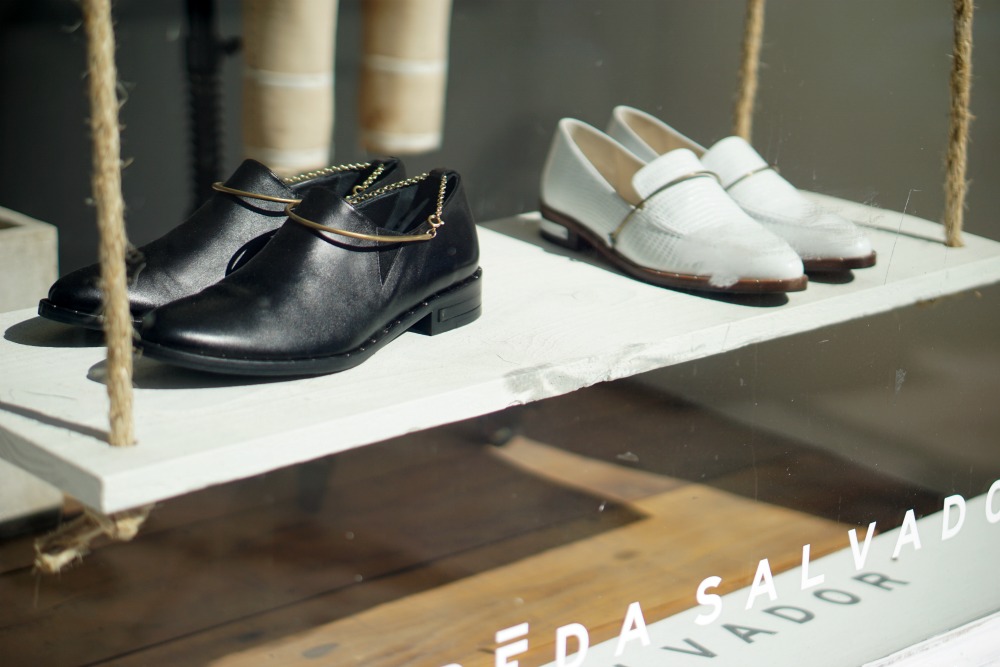 Le week-end dernier je me promenais dans les rues de San Francisco lorsque je suis tombée sur cet adorable shop, nommé
Freda Salvador
et absolument pas dans mon budget soyons honnête
(les modèles sont autour de 300$)
, mais avec des chaussures si belles que j'étais obligée de vous en parler! Parce que il faut aussi savoir se faire plaisir parfois et on est pas l'abri que je finisse par craquer (en solde ????. )
Le style est casual, mais "fancy" comme on dit par ici (comprenez chic) et je dirais même pointu. Avec un air très frenchy que j'aime beaucoup, conceptualisé en Californie et fabriqué en Espagne et à la main (ce qui reste l'Europe et justifie aussi les prix). Finalement tout à fait dans la vibe de San Francisco avec ses accents hispaniques et ses français un peu partout.  Vraiment un énorme coup de coeur pour cette marque que je me verrais bien porter tout les jours (avant ça il va falloir que je change de job ou que je trouve un mari riche, au choix, haha #joke). La marque créée par deux amies est toute jeune et pas encore dispo en France, mais si vous passez par SF ou LA vous aurez surement du mal à résister!
The last weekend, as I was walking in the streets of San Francisco, I came across this cute shop named Freda Salvador and, to be completly honest with you guys, way over my budget (shoes cost around 300$). But those shoes were so nice, I had to speak about them ! Because we have to enjoy yourself sometimes and it is not unexpected that I go crazy and buy them (on discount).
Style is Casual but fancy with something Frenchy but made in spain and first think in California. Finally it's totally on the San Francisco Vibes with all those hispanic influences and those french people everywhere. Big crush for this brand that I would love to wear everyday (but first I need to change my job, or get a rich husband #joke) . the brand has been created by two friends and is pretty new. For the moment you can only find it in USA and there is two shop, one in SF and one in La.
Monday-Saturday 11-7, Sunday 11-6
415.872.9690
XO